VR Projects Win Favor of Public in National Science & Technology Week
National Science and Technology Week 2016 held in Cultural Palace of Nationalities, Xidan DistrictBeijing lasting eight days, started from May, 14th and wrapped up on May, 21thsuccessfully. In particular, Beijing Science and Technology Week, as the main session of the activity, had more than 200 abundant interactive experience projects, which attracted over 80 thousand people to visit on site.
More than 30 exhibition items were rated as the most favorable popular science projects, such as VR Military Experience, Multimodal Human-Computer for Spoken Dialogue System, Ultra High-Definition 10K Display Screen, Five hundred meters Aperture Spherical Telescope etc.
Though projects of Beijing Science and Technology Week this year was full of new technology, new products and new startups with high scientific and technological content, each project fully displayed science popularity and interactivity via creative design thinking by means of combination of state-of-the-art science and multi-domain inter-discipline.
In addition, 12 newest and the most significant end of national large-scale scientific major instruments were first captivated into the eyes of the public.
Accompanied by leaders of Beijing Municipal Science & Technology Commission, Vice Premier LIU Yandong visited exhibition item of VR Human-Computer Dialogue System. The responsible professor TAO Jianhua of Institute of Automation introduced its technological framework and exhibited interactivity with the public on site.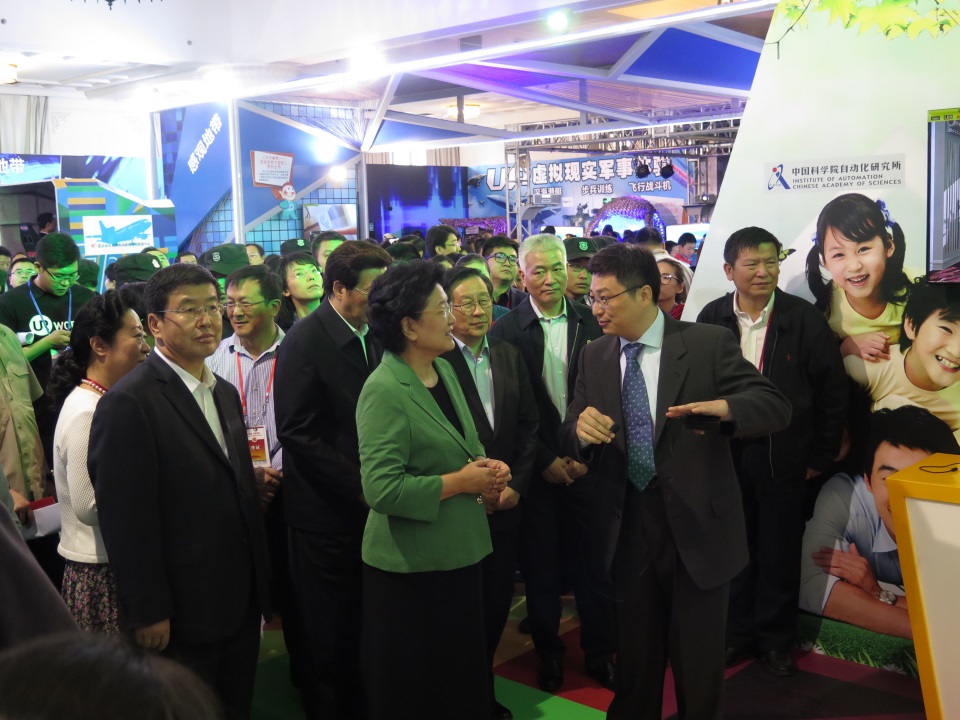 An image of Vice Premier LIU Yandong listening to Professor TAO Jianhua, Institute of Automation, CAS introducing exhibition item of Multimodal Human-Computer for Spoken Dialogue System (Image by Institute of Automation, CAS)
Exceptfor the most frontier and high end exhibition items, Beijing Science and Technology Week was no shortage of science and technology for people's livelihood. For example, new generation smart phone, micro gesture recognition sensor, robots for the disabled and the elderly etc., which were incubation and innovation projects closely associated with people's life, were also popular with visitors.