INCOSE President Mr. Alan Harding Visits CASIA
On November 8, Mr. Alan Harding, President of INCOSE (International Council on System Engineering) and Mrs. Courtney Wright, INCOSE Certified Program Manager, visited CASIA and the State Key Laboratory for Management and Control of Complex Systems (SKLMCCS). Dr. Lefei Li, Vice President and former Chairman of INCOSE Beijing Chapter, deputy director of Industrial Engineering department of Tsinghua University, accompanied the visit.Representatives from CASIA, Chinese Association of Automation and Qingdao Academy of Intelligent Industries attended the meeting. Professor Wang Fei-Yue, director of SKLMCCS welcomed the delegation.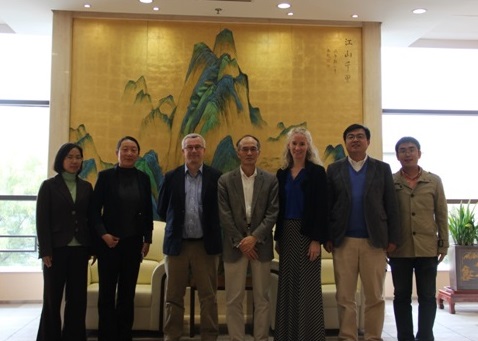 Group Photo
INCOSE, founded in 1990, is a global non-profit membership organization dedicated to the development of systems engineering disciplines and process sets.
In parallel management and control center, visitors listened to reports from CASIA, SKLCSS and QAII on cutting-edge scientific research, core technology development, personnel building and transformation of scientific research achievements.
Afterwards, delegates visited Intelligent Robotics based on Advanced Control team and Intelligent Medicine team to gain insight into the laboratory's work on bionic robot fish, molecular imaging theory, technology and equipment.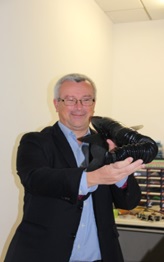 Mr. Alan Harding Shows Great Interests in Robotic Fish
During discussion, Professor Wang Fei-Yue and Mr. Alan Harding exchanged views on INCOSE's development worldwide. Harding stated that he'd like to work together with INCOSE Beijing Chapter to actively enhance its influence in China, further promote technical level and practice of System Engineering in China's industry, academia and government, and boost worldwide practice of System Engineering, Education and research cooperation.