Lam Congratulates 22 CAS Interns After Science Adventure
CHINA DAILYThursday, July 26, 2018, 20:43
By Wang Yuke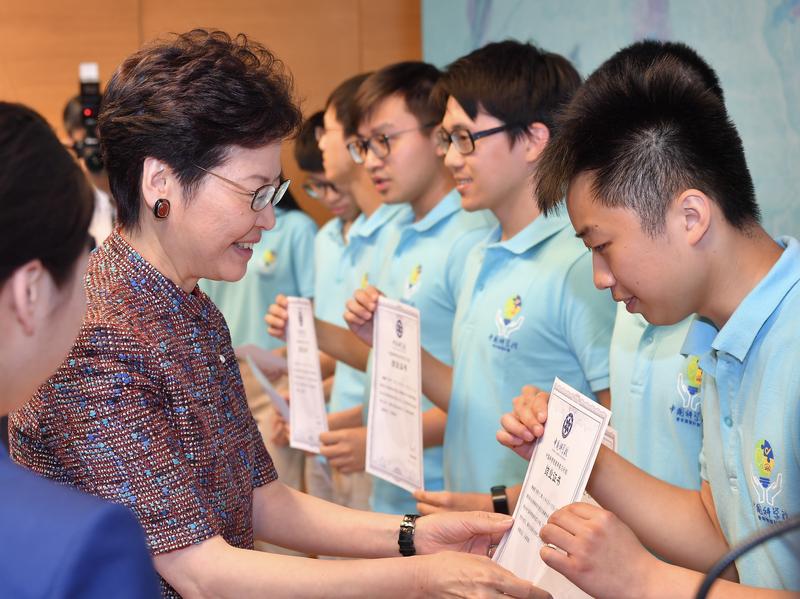 Hong Kong Chief Executive Carrie Lam presents certificates to university students from Hong Kong at the closing ceremony of the Youth Internship Programme at the Chinese Academy of Sciences in Beijing, July 26, 2018. (HKSAR GOVERNMENT)
A six-week adventure at the cutting edge of science and technology ended for 22 Hong Kong youngsters as they completed their internships at the Chinese Academy of Science.
"I'm sure you must have broadened your mind and horizon, and gained a lot after the six weeks." Carrie Lam, HK Chief Executive
Chief Executive Carrie Lam Cheng Yuet-ngor addressed the graduation ceremony in Beijing on Thursday. Extending congratulations and presenting certificates to the Hong Kong students, Lam said the internship program offered by CAS gave the Hong Kong youth a ticket to the most esteemed science and technology research institute in the country.
"I'm sure you must have broadened your mind and horizon, and gained a lot after the six weeks. And now, you must be more enthusiastic about scientific and technology research," said Lam.
Highlighting the importance of cultivating well-rounded youngsters and the plan for intensive internship programs in her Policy Address last year, Lam recognized the internship opportunity in CAS as great progress toward the aim.
The 22 students from different universities in Hong Kong were assigned to three research laboratories including automation, computer science and software. The privilege to access state-of-the-art technologies will definitely help the students apply their knowledge and technical skills to their scientific research in future, Lam said.
The first internship program in CAS was a great success, which gave Lam much confidence to continue the program and extend the spectrum of research subjects interns could be involved in.
The participants included Ma Yu-kan, a computer science student from the Baptist University of Hong Kong. He cherished the experience very much but felt six weeks was too short because the project he was engaged in was still halfway through.
"It's shame that I can't continue working on the remaining jobs. I know the learning process is important but I still want to see a tangible outcome. A research finding, a model or a prototype," Ma regretted. "I hope the internship could last three months."
Another intern, Lo Kwun-yu echoed this, saying: "I can't drop off the project after I'm back to Hong Kong, so I will follow it up remotely with my senior teammates and mentors online."
Lam encouraged the students to share their experience on various social media platforms to entice more Hong Kong science and technology enthusiasts to join the program.
jenny@chinadailyhk.com
Link: https://www.chinadailyhk.com/articles/99/24/75/1532608961029.html
Contact:
ZHANG Xiaohan, Institute of Automation, Chinese Academy of Sciences
Email: xiaohan.zhang@ia.ac.cn