Hong Kong Students Gain Vision of the Future
Source: 2018-08-07 13:13:41 China Daily Editor : Li Yan ECNS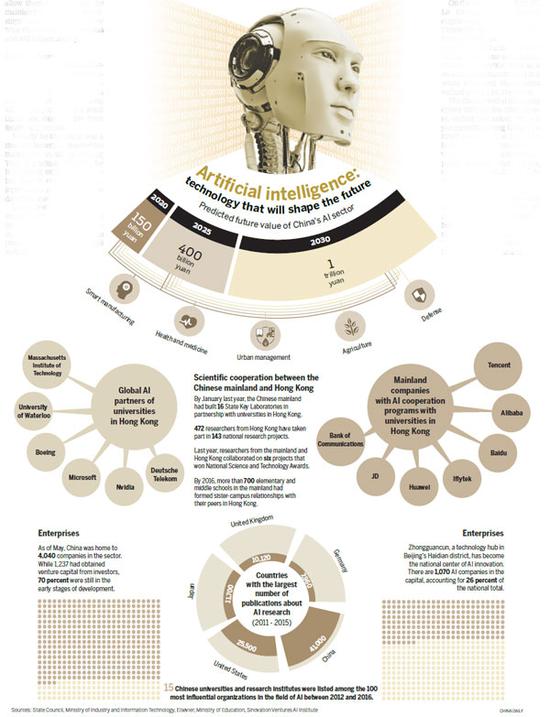 Undergraduates from the city intern at Chinese Academy of Sciences for the first time.
Lam Wah-shing, a 22-year-old senior from the City University of Hong Kong, learned to be a "father" this summer while interning at the Institute of Automation of the Chinese Academy of Sciences in Beijing, the country's highest academic institute.
His "baby" was a 40-centimeter-tall humanoid robot named Xiaozi, or "small automaton". The robot lounged lazily when powered off, but once turned on, it walked around the room like a toddler, pursuing and kicking its program target - a red tin can.
During his six weeks as an intern, Hong Kong resident Lam wrote codes for Xiaozi's intelligent perception and computing programs.
Lam rushed to fix Xiaozi when it collapsed due to a battery malfunction, and laughed when it wobbled its sensor-packed head cluelessly as it searched for the target, which was hidden behind a chair.
"Coding a robot is like teaching a child, it takes a lot of patience and care," he said.
Lam was part of a 20-strong delegation of students from seven universities in Hong Kong who interned at the academy. They studied artificial intelligence, smart robotics, autonomous driving and other advanced topics at the academy's institutes for automation, computing technology and software.
The program, which began on June 19, was the first time students from Hong Kong had interned at the academy. It was organized by Hong Kong's Home Affairs Bureau, the academy's Bureau of Science Communication and the Intelligence Science and Technology Popularization Alliance.
Both the mainland and the city have recently expanded exchange programs, especially those for young people.
The programs aim to cultivate innovative, passionate and capable young scientists by teaching them more about the nation's latest developments and opportunities, Carrie Lam Cheng Yuet-ngor, chief executive of the Hong Kong Special Administrative Region, said at the closing ceremony of the academy's internship program on July 26.
Lam hopes to expand the scope of research subjects in which interns from Hong Kong can become involved, and has urged the students to share their experiences on social media to encourage more people to join the program.
This year, the Hong Kong United Youth Association has launched four internship programs, including a six-week program that started in June and enabled 250 Hong Kong undergraduates to intern at mainland companies and government organizations.
"Young people are the future, and the most dynamic, the most innovative generation, with great potential to push forward social development," said Jack Chan Jick-chi, Hong Kong's undersecretary for home affairs, at a launch ceremony for the programs.
In addition to cultural and career-focused exchange programs, Carrie Lam pledged in May to enhance bilateral scientific exchanges and collaboration with the mainland after President Xi Jinping said he would support Hong Kong becoming an international center for innovative science and technology.
Liu Chenglin, deputy director of the academy's Institute of Automation, said scientists in the mainland already have a long and fruitful history of collaborating with their peers in Hong Kong.
Collaboration and young, innovative talent are crucial for advanced technologies such as artificial intelligence, he said.
However, it is rare for students from Hong Kong to study at or engage in scientific exchanges with research institutes in the mainland.
As of June last year, 11,000 to 12,000 students from the mainland had studied at universities in Hong Kong every year since 2012, according to the Ministry of Education. However, only 70,000 students from Hong Kong have studied at and graduated from mainland universities since 1997.
"This internship program will help Hong Kong students learn about the mainland's research methods and environment," Liu said. "It will also allow them to experience the mainland culture, build friendships and understand how what they learned at school has and will impact society."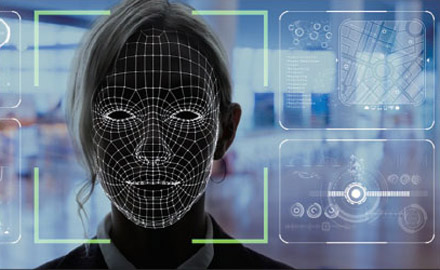 The increasingly wide application of facial recognition technology is spurring research and development in the Guangdong-Hong Kong-Macao Greater Bay Area. (Provided to China Daily)
Drive to learn
While working in the autonomous systems lab at the Institute of Automation, Lai Kin-ming, a 22-year-old junior from the Chinese University of Hong Kong, was puzzled by a small black box fixed to the front fender of a model car.
Initially he thought it was a motor or battery, so he asked his mainland research tutor Zhang Ying, a graduate student, for help. Zhang explained that the box was an encoder, a digital input device used to assimilate data for a specific purpose.
Lai wanted to know how the encoder worked right down to the structural engineering level, so he and Zhang dived into prestigious scientific journals to find the answers.
"It was a great bonding and mutual learning experience," Zhang said. "Hong Kong students don't need to know how encoders work to finish their intern projects, yet they want to get to the bottom of everything. This insatiable drive to learn is something we mainland students can definitely adopt."
The Hong Kong students' ability to innovate also left an impression on their research mentor Tang Shuming, an associate professor at the institute.
"Hong Kong universities have conducted a lot of solid, pioneering theoretical research into AI for years," Tang said. "In the mainland, we tend to focus more on turning research into applications that can solve national needs."
Hong Kong is home to many of the world's leading research centers in AI and deep learning, such as the Multimedia Laboratory at the Chinese University of Hong Kong and the Hong Kong Polytechnic University, she said.
From 2011 to 2015, the city ranked as one of the countries and regions with the most influential AI research publications, taking third place in terms of field-weighted citation impact, a key indicator of a paper's quality, according to science publisher Elsevier.
The mainland ranked 34th on the same list, despite publishing the largest number of AI papers in the world during the same period, Elsevier said. However, according to the AI Institute at Sinovation Ventures, a global venture capitalist, the quality of the mainland's AI research output has improved since 2006.
Tang said, "We still have a long way to go in terms of tapping into the real source of innovation, which is an extremely deep understanding of basic theories."
She added that if Hong Kong's theoretical knowledge could be combined with the mainland's engineering prowess, "We could see rapid technological advances."
Mutual learning
On the afternoon of June 26, Lo Kwun-yu, a mechanical engineering senior from the University of Hong Kong, was playing with an iris-recognition machine in a hallway with his mainland tutor and friends. Suddenly, everyone froze as a 50-something man dressed in a white shirt and black pants walked out of a nearby room.
The man looked at the young crowd through his thick glasses, smiled and asked, "So, are you guys from Hong Kong?" Lo never expected that would be how his first conversation would start with famed computer scientist Tan Tieniu, director of the academy's Center for Research on Intelligent Perception and Computing.
Tan chatted with the students in the hallway for 30 minutes and shared the stories behind the black-and-white photos hanging on the center's "Big Family" wall. Soon, more Hong Kong students and even their mentor - Zhang Zhaoxiang, a researcher at the institute - joined in the fun.
The dozen star-struck students capped the unexpected meeting with a group selfie with Tan.
"He was very friendly, and that was a really special moment," Lo said. "He changed the way I view life as a scientist. I thought that being a scientist meant staying in a lab for decades, but Tan encouraged us to go outside, see the world and learn from other fields and technologies."
Tan asked the students to share their experiences in Beijing with friends back home, and not to be shy about interacting or sharing ideas with tutors and mentors during their internship, he added.
Wang Feiyue, director of the State Key Laboratory for Management and Control of Complex Systems in Beijing, said the history of computer science is punctuated by examples of students working with, and eventually surpassing, their teachers.
"You have to be bold, brave and not afraid to ask questions," he said, during a seminar with the students. "The learning process is more important than the knowledge itself, which can become obsolete. Knowing how to learn and interact with others are key to success."
Zhang Zhaoxiang said the students were innovative, modest and well-mannered. "I learned a lot about Hong Kong simply by chatting with them," he said, adding that previously he only had a shallow understanding of the city as an international port with a great appreciation for traditional culture.
However, after mentoring Lam Wah-shing and Li Ka-chiu, a computer science senior from the Hong Kong University of Science and Technology, he understood more about the latest developments in the city.
In recent years, the city government has stepped up financial and tax incentives to attract technology companies, especially those specializing in big data, the internet of things and AI.
Hong Kong officials also hope to expand scientific collaboration with neighboring Shenzhen, Guangdong province, and other cities within the Guangdong-Hong Kong-Macao Greater Bay Area.
"By talking with the students, I now have a better understanding of their needs and see more opportunities for Hong Kong to cooperate with the mainland," Zhang Zhaoxiang said.
Ma Yu-kan, a computer science senior from Hong Kong Baptist University, was surprised to learn that the Institute of Computing Technology in Beijing uses computing neural networks to detect diseases and monitor pathological changes within the body.
"It was mind-blowing for me because I thought computer science was all about coding and making software - I didn't know it could be used in medicine," he said.
Ma and his friends were also impressed by the mainland's on-demand delivery services and shared bikes, which use artificial intelligence and big data analysis to function.
"My face is bit chubbier now because I have been using apps to order takeouts," he said. "If you want to experience a city whose services are speedy and convenient thanks to technology, you should definitely visit Beijing."
Link: http://www.ecns.cn/news/feature/2018-08-07/detail-ifywsspt3619828.shtml
Contact:
ZHANG Xiaohan, Institute of Automation, Chinese Academy of Sciences
Email: xiaohan.zhang@ia.ac.cn